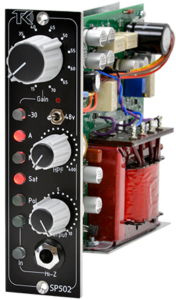 500 series class A preamp
SP502 is a new single slot 500-series preamp with a unique hybrid design including both vintage and modern circuits.
A new transformerless input stage forms a clean and transparent front-end, together with the two selectable output stages you can get the low mid punch and thick sound associated with British Class A from the early 70's as well as a more modern clean tone from the 80's and 90's.
SP502 is also equipped with a saturation stage that can be selected to add some extra harmonics to the signal. The sweepable HPF from 30Hz to 400Hz allows precision crafting of the low end. A new function is that the instrument input can be routed directly to the output stage without passing the preamp stage (the saturation circuit and HPF can still be inserted).
The DI direct mode together with the vintage Class A stage gives you a very nice discrete sound path for bass recording.

Power requirement: +130mA / -130mA
Input impedance: 2400 ohm
Instrument input impedance: 1Mohm
Max output level: electronically balanced +25dBu, Class A +24dBu
DI direct gain: +15dB
THD+N @ +20dBu electronic balanced output: 0,0008%
THD+N @ +20dBu Class A output: 0,007%
THD+N @ +20dBu saturation active: 0,9%
Frequency response electronic balanced: -0,6dB @ 80kHz
Frequency response Class A: -0,5dB @ 20kHz
Gain switch in 5dB steps: -15 to -70dB. +15dB to -40 with -30dB pad selected
48v phantom power
Selectable output stage: vintage transformer balanced Class A or electronically balanced
Sweepable high pass filter: 30-400Hz, 12dB sloop
Saturation: inserts a saturation stage for extra harmonics after the input stage
Polarity switch
Direct: routs the instrument input directly to the output stage
In: activates the instrument input
Hi-Z input, instrument input with more than 1Mohm input impedance
Output level control
Illuminated switches (except for the phantom toggle switch which has a separate LED)
Specifications and components may be changed or updated without further notice.